VIRTUAL TAPE LIBRARY (VTL)
Modernize your backup and archive environment and reduce storage capacity by up to 95%. Now supporting tape out to private and public cloud object storage.
FalconStor® Virtual Tape Library with Deduplication is a disk-based solution that emulates physical tape drives and libraries.
VTL is a vital tool in your data mastery arsenal and gives you instant hero status by modernizing your archive environment and optimizing backup storage requirements so you can save your department money and improve restore performance to enable rapid remote disaster recovery.
Whether you're refining an existing backup system or implementing a new one, FalconStor VTL with Deduplication can make the process faster and smoother, reducing backup windows and improving storage efficiency by up to 95%.
You'll get 100% peace of mind with leading ease-of-use and 3X-6X better price/performance. Protect data and make it highly available and accessible from multiple sites while integrating with existing backup applications with minimal effort.
Meet the backup window. Achieve single node aggregate backup speeds of up to 40TB/hour to meet your single biggest issue in backup. FalconStor VTL with Deduplication archives data with no impact to application servers or business continuity.
Scale to meet data growth needs. Deploy the only solution that can independently scale high availability backup nodes from cluster deduplication nodes to handle large data sets and extremely demanding backup windows. Emulate more tape libraries and drives than any other vendor so you can recover data from any point in time: 128 virtual tape libraries, 1024 virtual drives, and 1M virtual tapes.
Reduce capacity requirements. Eliminate redundant data and reduce capacity requirements by as much as 95% while selecting the deduplication policy that best aligns performance to business requirements.
Leverage private and public cloud for long-term data retention and recovery. Achieve low-cost tape archive that is encrypted for protection and managed by the local VTL software. Migrate virtual tapes to Amazon Web Services (AWS) S3 object storage and Hitachi Content Platform (HCP) for archive purposes in the cloud, and set up policies on virtual tape libraries to automatically migrate tape data when a tape is ejected to the virtual vault after backup.
Achieve flexibility no other solution can give you. Unlike competing solutions that require dedupe, FalconStor VTL supports multiple policies, so you can choose inline or not – you won't suffer hydration penalties, ever.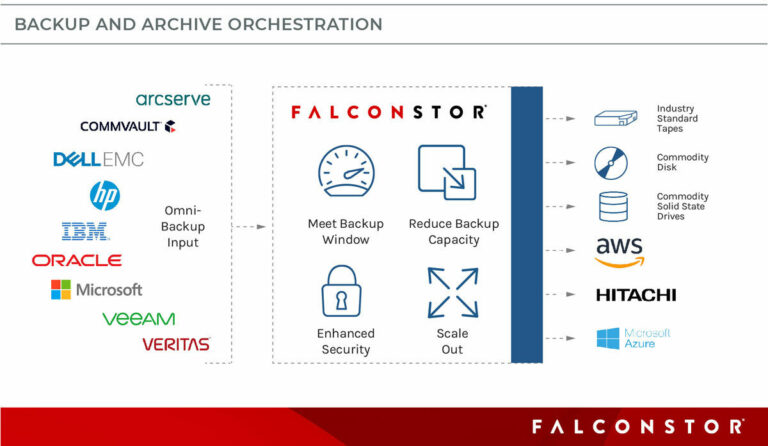 ONE SOLUTION FOR ALL YOUR USE CASES
FalconStor VTL works by removing redundant data blocks are removed and replaced with pointers to the unique data copy. In effect, only changes from the last time the data was stored are kept. All unnecessary meta-data is removed, leaving only the raw data stored on disk. All of these processes are secure, automated, and error-free.
Reduce remote office storage requirements by up to 40% and protect data while eliminating failures related to tapes non-IT staffing issues with no lock-in.
Align deduplication processes to business goals. Meet regulatory and compliance requirements for protecting and storing data offsite while ensuring it's highly available and accessible from multiple sites and define your deduplication use case (remote office, inline, post/ concurrent, or none) based on SLAs and business needs.
Use existing investments. FalconStor VTL with Deduplication is a reliable and fast backup solution that is vendor-agnostic, which means you can use existing hardware or choose your own hardware to save costs and ensure no compromise on performance.
Modernize your IBM i backup environment. With 80% of IBM i customers using tape as a primary backup strategy, look to FalconStor to help you orchestrate your backup and archive for IBM i environments. By using FalconStor VTL as a backup target for IBM i infrastructure, you can reduce operational and media costs while increasing performance levels to meet stringent application recovery SLAs and maximize ROI.
FLEXIBLE DEPLOYMENT OPTIONS
Designed with your organization's size and unique needs in mind, FalconStor VTL is available in several form factors:
Software Only: Provides the flexibility to choose the hardware and configuration appropriate for the level of protection and recovery required.
Virtual Appliance: For VMWare infrastructures scaling from 1TB – 10TB
Storage Appliance for ROBO and Midmarket: For remote/branch office (ROBO) and midmarket environments, scaling from 12TB – 192TB.
Cluster Deduplication Gateway for Midmarket and Enterprise: HA cluster deduplication gateways that integrate with certified existing SAN storage, scaling to 2PB of usable storage for midmarket organizations, enterprises, and large enterprises.
Please see the Certification Matrix for all server hardware supported. Hardware support includes, but is not limited to, FalconStor VTL GA870 and Hitachi G200/350.


RESOURCES