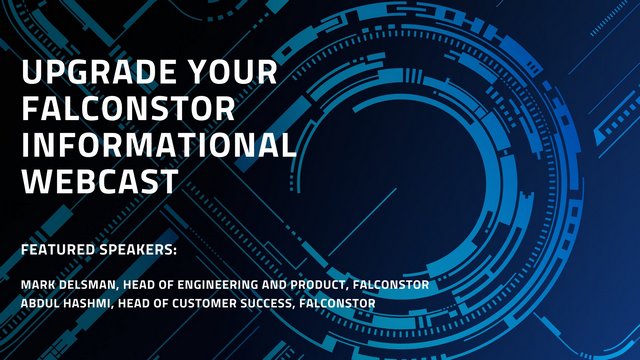 Upgrade your Falconstor Informational webcast
In this webcast, developed exclusively for current FalconStor users, you'll learn everything you need to know from our engineering and customer support leadership about upgrading to our latest products.
Tuesday, March 30 2021 (3:00 PM EST / 12:00 PM PST)
Discover why tape alone will lead to anger, anguish, and despair
Learn how to seamlessly transition to a mix of cloud, disk and tape without a forklift and why all three targets are important
Accelerate and secure your data protection operations while slashing cost immediately and keep costs down as data grows
Ultimately discover how to eject yourself from the nine circles of tape hell to achieve data protection and archival nirvana via backup & recovery as a service
December 9, 2020 (10:00 AM - 11:00 AM CST)
Learn how IT teams are sustaining their current IBM ProtecTIER environments even as the product goes End-of-Life and migrating to FalconStor's modern data protection solution that maintains historical data, optimizes price/ performance and enables secure storage on-premises and in the cloud with Amazon AWS, Microsoft Azure, and IBM Cloud.
November 4, 2020 (2:00 PM - 3:00 PM ET)
FalconStor StorSafeTM with deduplication is a disk-based solution that modernizes the tape archive environment. Together with Wasabi hot cloud storage, enterprises can improve the performance of their long-term archive operation and add an additional layer of redundancy to hybrid storage environments. Hybrid cloud organizations looking to scale affordably will also see advantages to using Wasabi and FalconStor's joint solution.
October 21, 2020 (2:00 PM - 3:00 PM ET)
Join our webinar to learn how to create a plan, prepare a new solution and migrate to a trusted IBM i ProtecTIER replacement.
September 16, 2020 (2:00 PM - 3:00 PM ET)
There are myriad themes that IT is pursuing at any one point in time and now is no exception. One thing that throws what might appear to some as curveball at these themes is the pandemic. I'm arguing that Customer Experience, regardless of what's going on around us, is still King and Business (AKA Digital) Transformation and by direct association Edge and Edge Computing are keys to any strategy.
Tampa, Florida – Hilton Tampa Downtown
Great educational opportunities await you at COMMON's 2020 Fall Conference & Expo, taking place in Tampa, Florida from September 14 – 16, 2020. Spend two days immersing yourself in the COMMON community, choosing from over 120 sessions presented by industry experts, and networking with vendor partners showcasing products and solutions in Expo. You won't want to miss this opportunity to keep your skills up-to-date. Stay tuned for more information coming in Summer 2020!
Livonia, MI – VisTaTech Center at Schoolcraft College
This will be a power-packed day of education featuring World Class Presenters. Extraordinary networking opportunities – have fun, learn and share with your peers, renowned speakers, IBM developers, executives, and fellow members. Visit the Vendor Expo. This event will power you into the future.
Montpellier, France – IBM Client Center Montpellier
The Common Europe Congress brings together hundreds of Power System experts, users, vendors and like-minded professionals under one roof to network, learn, and share best practices. Education is delivered by industry experts, IBM developers, and like-minded peers. The Congress is designed to welcome networking and conversations to seeking solutions to your IT issues by conversing one-on-one with vendors in the exhibit hall or learning new ideas from casual conversation with your peers.
Atlanta, Georgia – Hyatt Regency Atlanta
Join your friends and colleagues in the COMMON community at POWERUp 2020. In the company of peers and over 100 industry experts, you'll enjoy the best in Power Systems and IBM i education over the course of 4 days. View the list of nearly 400 sessions, which cover over 20 areas of IT. POWERUp also boasts the largest exposition of its kind. This conference is structured to give you the pure education and professional connections needed to best enhance your career. Are you ready to POWERUp?
NAB Show® 2020 is an unrivaled source. For content professionals from all corners of the media, entertainment and technology ecosystem. For those seeking to create superior audio and visual experiences. For those striving to drive listeners and viewers in larger numbers for greater reach.