Modernize backup & archive operations for the cloud era
StorSafe™ – Modernize your existing backup operations to run 6x faster, reduce storage requirements by up to 95%, and migrate to cloud object storage for offsite protection instead of tapes over time.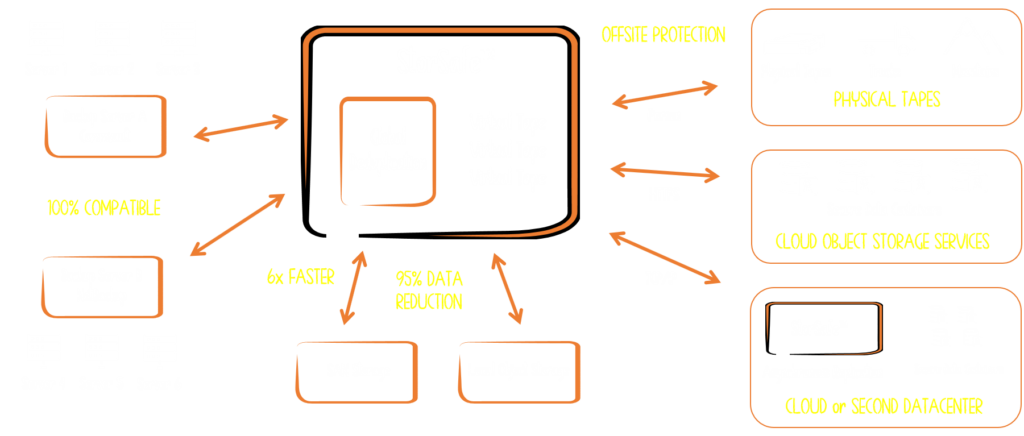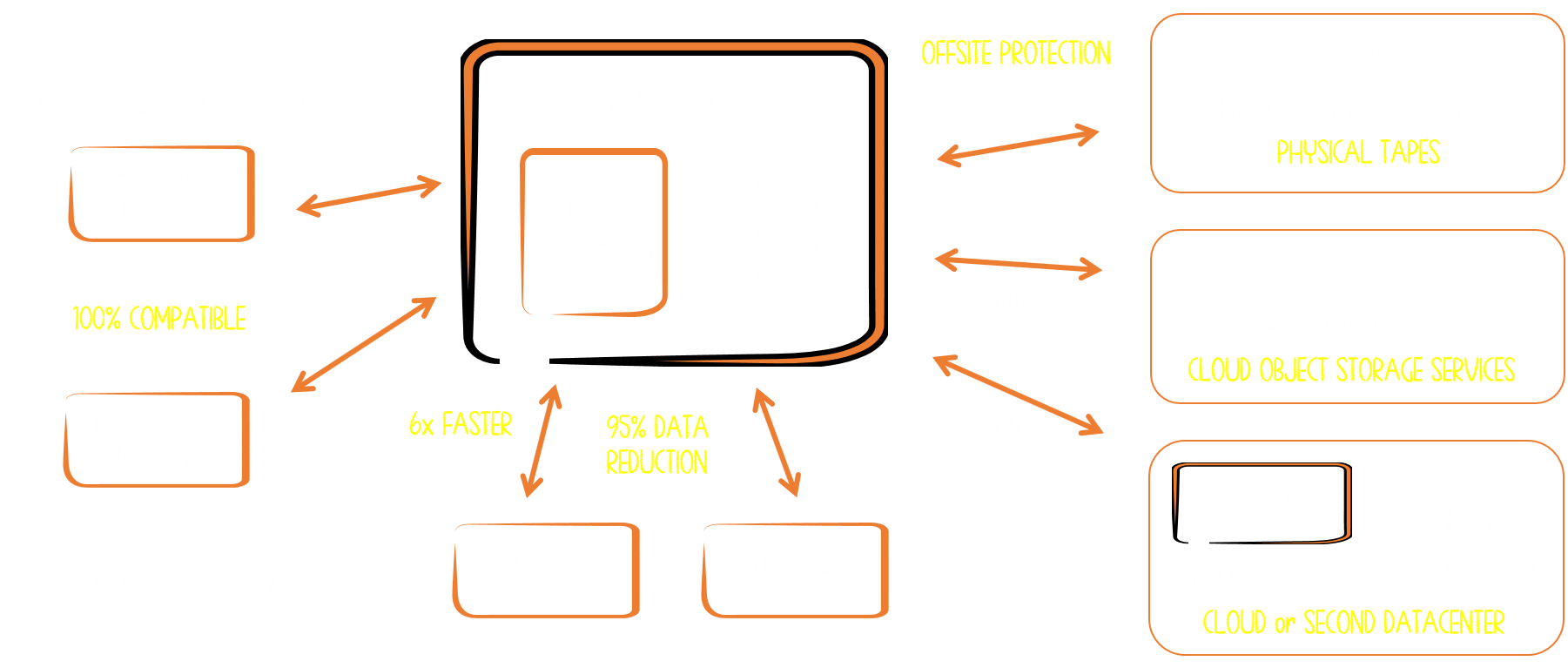 StorSafe™
Enterprises need a way to increase the performance of their existing backup and archive operations to meet the challenge of unstoppable data growth and limited budgets. Operations must run faster, so more data can be protected each day, and deduplication must be used to aggressively reduce the size of backup sets. Within an enterprise, it is not uncommon to have several backup software vendors in use, protecting different divisions or departments, possibly, with piles of tapes specific to each, and different trusted, ingrained procedures. That is why virtual tape libraries (VTLs) are the go-to technology to modernize enterprise backup and archive operations.
AT A GLANCE
StorSafe is the latest innovation release of our battle proven VTL product. It is a 100% software product that runs on industry-standard servers, or in any cloud as a VM, to provide a next-generation virtual tape library that is scalable, state-of-the-art, and 100% compatible with existing enterprise backup software. StorSafe can eliminate tapes and manual processes completely in favor of cloud object storage for offsite protection of backup sets, if desired.
The StorSafe VTL uses storage you provide, typically from a SAN, so you can use your existing vendors and storage management procedures. Scalability is as simple as giving StorSafe more block storage from your SAN or running the software on more powerful servers, so it is easy to grow operations over time. There is never a forklift upgrade event, as is the case for backup to disk appliances. Because backups are reduced by 95%, less block storage is needed and exports to cloud object storage are also up to 95% data reduced, making them portable and significantly less expensive to store.
BENEFITS OF STORSAFE
Modernize. A worldwide industry leader with over an exabyte under management, FalconStor is 100% compatible with your existing backup software, hardware and operational procedures, so you can realize value quickly without sweeping changes.
Go 6X Faster. We deliver the fastest backups and restores at 40TB/hour per compute server, up to 8 compute servers, for 320TB/hour of throughput. That's much faster than a physical tape library, and 2-10x faster than leading backup-to-disk appliances.
Up to 95% Data Reduction. Our leadership in deduplication techniques, underscored by 8 patents issued over 15 years, reduces the storage capacity required by backup data on-premises and offsite in the cloud by up to 95%.
90% Savings. Our 100% software-defined approach lets tailor a configuration to meet your needs today and tomorrow. Rather than vendor lock-in, you can leverage competing hardware and cloud object storage providers to slash your backup & archival storage costs.
Cloud Ready. We enable secure backup and archival on-premises and offsite protection using the cloud provider of your choice with tape-free, touch-free automation, to facilitate your use and migration to the cloud.
RESOURCES