From the Desk of Todd Brooks, CEO FalconStor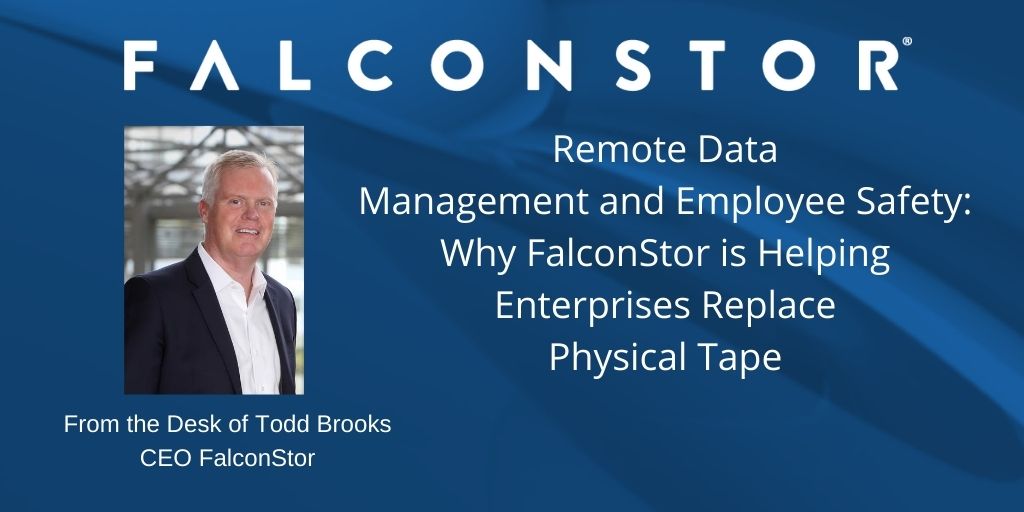 Over the last six months, the world has seen dramatic shifts across all industries. The challenges of the COVID-19 pandemic are unprecedented for each of us personally and commercially. As companies have made and deployed contingency plans, one of the most significant efforts across all industries is protecting the most precious corporate asset, their employees.
In the archival information market, companies are looking for cost-effective ways to provide data backup and archival while keeping their employees safe. One challenge is the necessity of employee intervention in managing and changing physical tape libraries, which is impossible without an in-person visit to a data center. Since tape management cannot be managed remotely, companies are looking for an alternate solution. FalconStor delivers direct native import of over 50 physical tape formats.
How extensive of a problem is in-person tape management? Over the last eight years, over 150 million tapes were sold, representing 650 exabytes of tape capacity, according to the latest report from The LTO Program Technology Provider Companies. About 60% of the physical tape is in a long-term third-party offsite storage. Onsite employees actively manage the other 40%, which often has a time-sensitive accessibility constraint that physical tape struggles to meet. From a remote management and employee safety perspective, the actively managed physical tape archives are moving to existing, proven, and trusted virtual tape library (VTL), and next-generation VTL solutions. With FalconStor's intellectual property and our StorSafe next-generation VTL innovation, enterprises can transfer data from tapes at 40TB/hour — directly from their legacy tape libraries, deduplicate their data by up to 95%, and transfer it to their choice of endpoints, e.g., Cloud, on-premise, or multiple Clouds. For those that have to meet accessibility, remote management, and employee safety requirements, FalconStor's solutions are cost-effective and innovative choices to help enterprises protect their employees and data and have been trusted enterprise archival solution for twenty years.