Many organizations, due to prior investments, are dependent on and still leveraging physical tape libraries to backup and archive business-critical data and applications. However, the challenges many organizations face, with decades-old tape technologies, are performance challenges to meet the ever-growing backup data volume, increasing capital requirements, and the lack of flexibility and scalability of tape systems. A new emerging problem is the acceleration of data growth with the increased remote working trends and the necessity to change tape cartridges manually. With FalconStor Virtual Tape Library (VTL), backups and archives can be executed and monitored remotely by IT teams.
FalconStor's VTL solution has been used by enterprises across the globe for many years to modernize their backup and archive environments, and daily operations. However, despite their modernization projects, following implementation of our VTL, many customers elected to simply preserve data archives that were previously stored on tape, while using our VTL for future archive operations. In addition, many of our customers have taken advantage of our "tape out" functionality, which allows an enterprise to export a copy of their archive data from our VTL to tape for safekeeping. As a result, it is not uncommon for tape use to remain as at least part of an enterprises archive plan.
What has been interesting about the challenging times we are now experiencing, is that our customers, and even partners, are beginning to use our VTL's "tape in" feature to migrate data off of legacy tape once and for all. In addition, given the new normal of working from home, several of the managed service providers (MSPs) that utilize our VTL to provide outsourced backup and archive services, are experiencing a significant increase in prospects that want to migrate off tape and move their backup and archive operations to an outsourced service provider.
Even better, once data has been migrated off tape into our VTL, archive copies can now be stored in the Wasabi data storage cloud for 1/5th the price of Amazon S3 and faster than the competition, with no fees for egress or API requests
FalconStor VTL eliminates these physical tape processes
Manual tape rotation & management processes
Data longevity & integrity anxieties
Costly Tape Media
Inability to access offline data
Ponderous tape data retrieval
Expensive CapEx hardware replacements
Why leverage FalconStor VTL for accelerated backup and archive
Heterogeneous, non-disruptive, backup and archive to Virtual Disk
Leverage existing backup infrastructure and architecture
Access archives on-demand with predictable retrieval times
Streamlined backup process, reduced manual interventions, and reduced cost
Export to Tape when needed or second copy to secondary data center
How FalconStor VTL works
FalconStor VTL is a disk-based solution that emulates physical tape drives and libraries and seamlessly drops into your existing environment.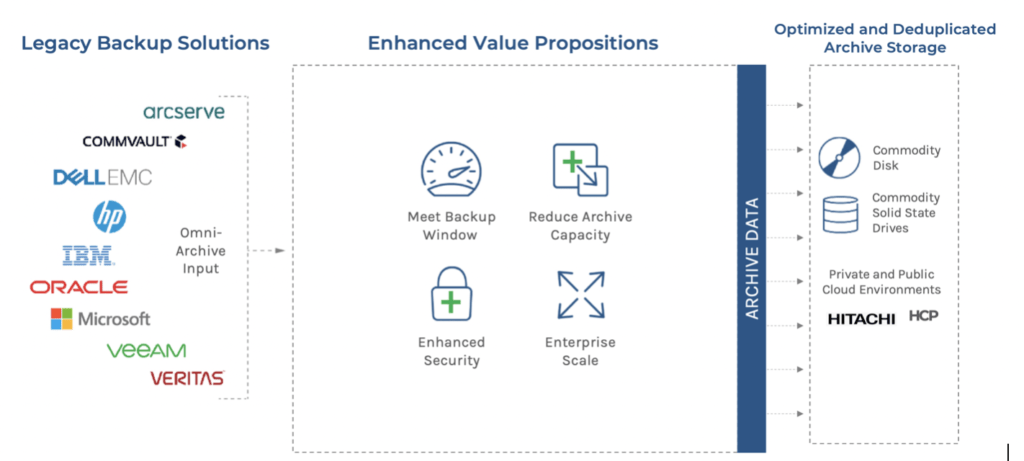 If you are a current VTL user and would like to begin taking advantage of this tape import feature, the detailed process can be found in our VTL – Tape Import Guide. In addition, feel free to contact me directly at abdul.hashmi@falconstor.com.
If you aren't a current VTL user and would like to learn more, feel free to contact us at sales@falconstor.com.

Detailed or step by step instruction on how to import tapes from physical library