AUSTIN, TEXAS (August 14, 2019) – FalconStor Software, Inc. (OTCQB: FALC), a market leader in software-defined storage and data management, today announced financial results for its second quarter ended June 30, 2019.
Key Financial Highlights for the Second Quarter of Fiscal 2019
Achieved 15% sales growth, year over year,
Captured 114% of additional sales in the Americas, as compared to the same period of the previous year,
Year over year sales from our Backup & Archive Modernization solution (VTL) grew 82%,
Our China-specific risk exposure declined to just 2% of total sales, as compared to 12% in 2018.
Key Product Highlights
Completed phase 2 integration of our Backup & Archive Modernization technology (VTL) into the FalconStor Data Mastery Platform during Q2 in order to extend our leading storage orchestration and ease-of-use capabilities to backup and archive use cases.
Published expanded independent testing of our VTL technology by the Evaluator Group, an information management and data storage analyst firm. Their findings conclude that our solution delivers up to 6x better price/ performance than the leading competitor.
Completed cloud integrations for Amazon Web Services (AWS) Deep Archive storage.
Completed several key software compatibility certifications; including, Windows 2019, VMWare 6.5, and 6.7
"Q2 marked an important milestone in our work to return FalconStor to growth, as we increased global billings by 15% as compared to Q2 of 2018", said Todd Brooks, CEO FalconStor. "I am especially pleased with the 82% year-over-year billings growth delivered through our Backup & Archive Modernization solution (VTL). According to IDC, up to 75% of data managed by an enterprise is directly related to routine data backup and archive. Our solution allows an enterprise to leverage existing backup policies and procedures, while ensuring the most stringent backup window is met, data storage capacity is reduced by up to 95%, and Cloud storage alternatives such as AWS, IBM-Cloud, and the Hitachi Content Platform (HCP), are integrated for improved data storage efficiency."
"It is important to note that our Q2 billings grew as compared to Q2 2018 despite the fact we intentionally executed several actions to reduce our revenue exposure in China during the quarter," Brooks continued. "While we will work diligently to support our existing China-based enterprise customers, we have elected to significantly reduce our footprint within the country and any new sales pursuits."
"Finally, despite our exciting growth, I was disappointed that we failed to achieve an operating profit for an eighth straight quarter," Brooks continued. "Achieving both consistent growth, and operating profitability, is key to our success plans. To ensure on-going quarterly cash-flow positive operations, we are implementing several changes, which are primarily targeted at ensuring our commercial dollars are being invested in the most effective way. The significant reduction in our China footprint is a prime example of this decision."
Additional Financial Highlights for the Second Quarter of 2019
On August 6, 2019, following stockholder approval, the Company filed a certificate of amendment (which was effective August 8, 2019) to the Company's Restated Certificate of Incorporation, as amended, with the Delaware Secretary of State to reduce the authorized shares of common stock, $.001 par value per share, to 30,000,000. In connection with this event, the Company effected a 100-for-1 reverse stock split of its issued and outstanding common stock. The par value and authorized shares of common stock were not adjusted as a result of the reverse stock split. Pursuant to Federal Industry Regulatory Authority guidance, the Company's stock will trade on the OTC market under the symbol FALCD, instead of FALC, through August 28, 2019. After this twenty-day period has lapsed, trading of the Company's stock will resume under the symbol FALC. All of the share and per share information presented in the accompanying financial statements have been adjusted to reflect, unless otherwise stated, the reverse common stock split on a retroactive basis for all periods and as of all dates presented.
During the three months ended June 30, 2019, we recorded a GAAP Net Loss of $1.6 million, as compared to a GAAP Net Loss of $1.3 million for the prior year period. Despite our growth in sales, our results were constrained by product mix, as a result higher than anticipated hardware and appliance sales during the current period, which yield significant less profit margins, as compared to our key proprietary technology offerings.
Overall, total revenue for the three months ended June 30, 2019 was $4.0 million compared to $4.0 million in the prior year. Revenue recognition on sales is driven by several factors. First, the volume of new product licenses and maintenance sales, both for expansion of our existing installed base and the acquisition of new customers. Second, customer retention, which sustains maintenance renewal revenue over long term sales arrangements.
After our $0.5 million Term Loan repayment, we ended the quarter with $2.4 million of cash and cash equivalents, as compared to $3.1 million at December 31, 2018. Our plan is to be cash flow positive for 2019 and we are on track to achieve this plan.

Non-GAAP results above exclude the effects of stock-based compensation, restructuring costs and the effects of our Series A redeemable convertible preferred stock. A reconciliation between GAAP and non-GAAP information is provided on page 6 of this release.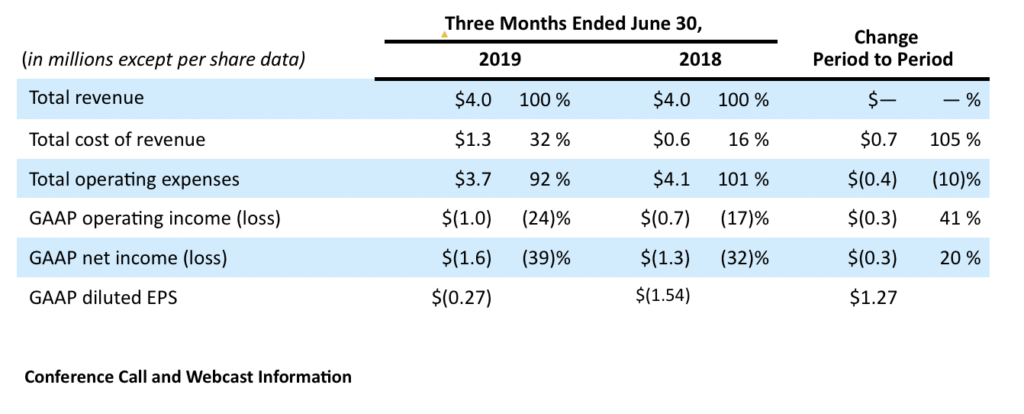 Conference Call and Webcast Information
The Company will host a conference call to discuss its financial results on Wednesday, August 14, 2019 at 3:30 p.m. CDT. To participate in the conference call, please dial:
Toll Free: 1-800-353-6461
International: 1-334-323-0501
To view the presentation, please copy and paste the following link into your browser and register for this meeting. Once you have registered for the meeting, you will receive an email message confirming your registration.
FALCONSTOR SECOND QUARTER 2019 FINANCIAL TELECONFERENCE AND PRESENTATION
A conference call replay will be available beginning August 14th at 6:30 PM CDT through 6:30 PM CDT on August 21st. To listen to the replay of the call, dial:
Toll Free: 1-888-203-1112
International: 1-719-457-0820
Passcode: 8684576
Non-GAAP Financial Measures
The non-GAAP financial measures used in this press release are not prepared in accordance with generally accepted accounting principles and may be different from non-GAAP financial measures used by other companies. The Company's management refers to these non-GAAP financial measures in making operating decisions because they provide meaningful supplemental information regarding the Company's operating performance. In addition, these non-GAAP financial measures facilitate management's internal comparisons to the Company's historical operating results and comparisons to competitors' operating results. We include these non-GAAP financial measures (which should be viewed as a supplement to, and not a substitute for, their comparable GAAP measures) in this press release because we believe they are useful to investors in allowing for greater transparency into the supplemental information used by management in its financial and operational decision-making. The non-GAAP financial measures exclude (i) restructuring costs, (ii) effects of our Series A redeemable convertible preferred stock, and (iii) non-cash stock-based compensation charges and any potential tax effects. For a reconciliation of our GAAP and non-GAAP financial results, please refer to our Non-GAAP Operating Data GAAP Reconciliation, presented in this release.
About FalconStor Software
FalconStor Software, Inc (OTCQB: FALC) empowers IT professionals to achieve mastery of their data – an organization's most precious asset – so they can responsibly push the boundaries of what's possible in the digital economy. The company's award-winning flagship solution, FalconStor® Data Mastery Platform, is a modern, comprehensive and easy-to-use data mastery software platform that gives IT professionals centralized data management control across all their resources to reduce operational costs, lower risk, and avoid technology compromises. FalconStor's vendor and hardware-agnostic solutions are designed to work with existing investments across complex environments, including legacy data centers, hyper-converged infrastructure, cloud, and hybrids.
Founded in 2000, FalconStor is headquartered in Austin, Texas and has additional offices in New York, Europe and Asia. Our solutions are available and supported by a vast network of system integrators and resellers. For more information, please visit www.falconstor.com.

CONTACT INFORMATION
For more information, contact:
Brad Wolfe
Chief Financial Officer
investorrelations@falconstor.com