How Falconstor's Enterprise Suite Helps You Overcome Storage Challenges In Today's Complex IT Environments
The enterprise data center and infrastructure are evolving at breakneck speeds with IT and operations managers customizing applications, networks and storage to meet their individual needs, but rarely are these networks homogeneous. As the infrastructure grows, the IT department is getting overwhelmed with the complexity of disparate software, tools and applications that are often dependent on the underlying hardware. While the challenges and complexity have been great, the remedies have been lacking…until now.
EXISTING CHAOTIC INFRASTRUCTURES
Today's IT organizations live in a chaotic world where corporate infrastructures often are the result of multiple mergers and acquisitions with essential components coming from multiple hardware and software vendors. Many of these companies also employ multiple cloud-based applications from Software-as a-Service (SaaS) providers and managed service providers (MSPs) that determine their own infrastructure, often without consideration of what the customer's own network and storage infrastructure might contain. Sometimes these divergent infrastructures create incompatibilities that limit the tools and applications the company can employ. Ultimately, the corporate IT manager is managing data across a vast array of hardware and software platforms, all with different tools and capability, and often, he or she has limited or no control.
IT organizations need to be able to normalize data and storage management, horizontally across all the diverse corporate and MSP infrastructures. They need simple, cost-effective tools that work seamlessly across multiple data types and hardware platforms, be they legacy or modern. And most important to the company's senior management, these companies need predictable pricing so that short- and long term budgets can be managed and financial goals can be reached.
Many companies are limited in the normalization of data due to vendor-specific tools used to migrate data or use common data services across these various platforms. This problem is exacerbated when companies use legacy hardware and customized applications designed to perform specific, mission-critical work. Such situations are common in financial services, manufacturing, healthcare and other industries that still rely on legacy equipment, programming languages and operating systems.
THE ARRIVAL OF FALCONSTOR ENTERPRISE SUITE: ANYWHERE TO ANYWHERE, ANYTHING TO ANYTHING
Rather than building applications from the ground up for each virtualization operating system or trying to develop a migration tool that allows applications and data to move from one data center or cloud infrastructure to another, FalconStor developed an approach that is both hardware and software agnostic, setting the data free from the confines of the storage infrastructure.
FalconStor® is the first vendor to utilize a truly horizontal data services core built into its Enterprise Suite software, Intelligent Abstraction™, to deliver a software-defined, horizontal platform to converge and deliver unified, common data management services regardless of the front-end applications or the systems' backend storage technology.
This includes rotating disks, solid-state disks, tape and other storage technologies that could reside on physical or virtual servers either locally, on a hosted server or in the cloud.
Falconstor Enterprise Suite effectively provides companies with the ability to modernize legacy hardware without the need to rip and replace.
Let's assume that a company is running an Oracle database enhanced with custom add-ons on an older server such as an IBM AS/400. It could be very expensive to port the custom software to modern hardware in order to speed up the database. With Enterprise Suite, however, the IT manager can front-end the older database server with a modern flash memory array, gaining the benefits of the high-speed storage without requiring an expensive hardware upgrade and total rewrite of the application. By creating tools that work horizontally across nearly all hardware and network platforms, Falconstor Enterprise Suite delivers an on ramp to, from and across virtually any private or hybrid cloud provider from a corporate network environment.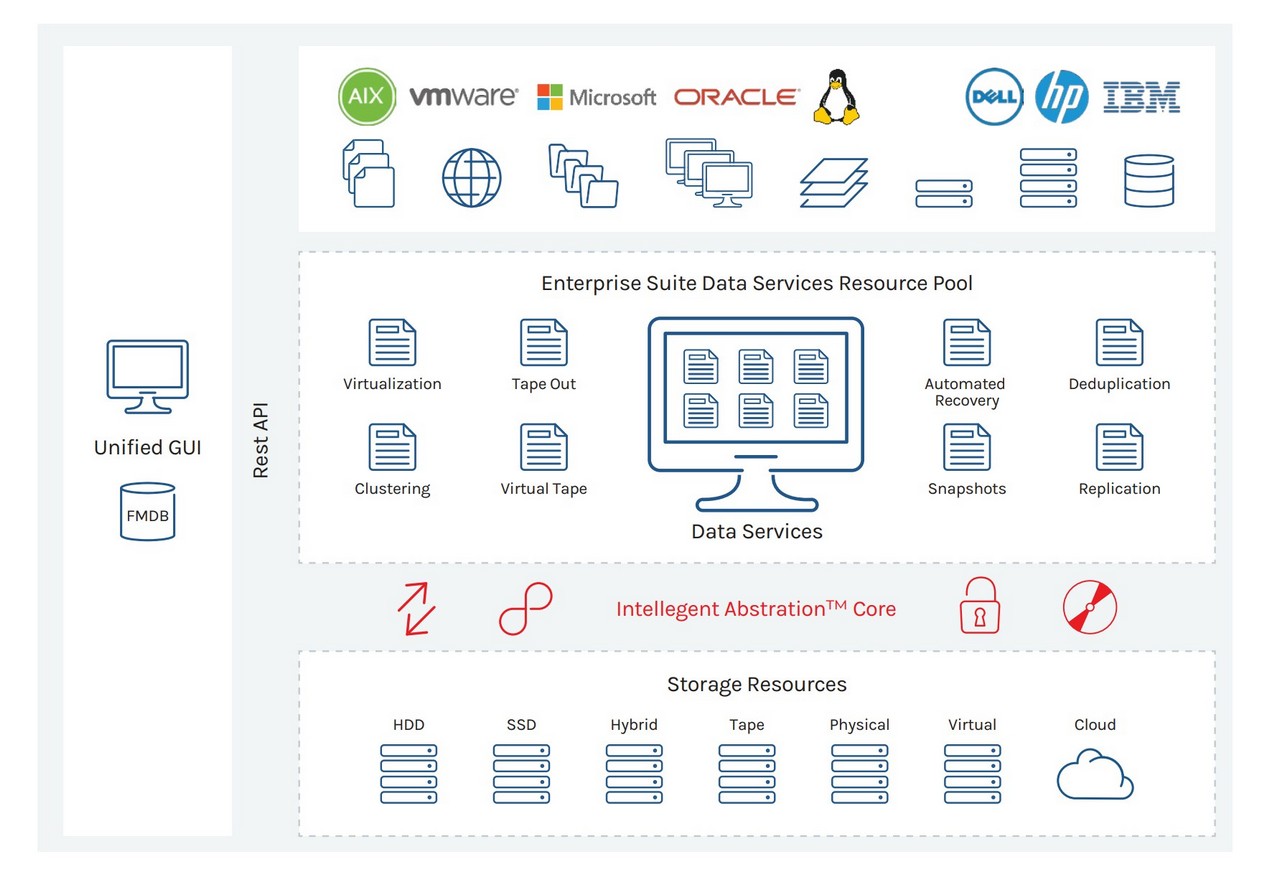 Additionally, the software provides the ability for a company to move files, data and applications seamlessly from any cloud provider to any other cloud provider. This is critical if a company's current cloud provider cannot meet the company's compliance or security requirements, or if the provider is either sold or goes out of business.
For many enterprises, downtime is not an option. Cloud providers or enterprises that have continuous operations for mission-critical applications must have an infrastructure designed to operate without interruption.
From the solid-state storage arrays and tape to the rotating disk storage and from the servers to the network, business continuity is essential, especially for those organizations that count transactions and revenue by the second, not by the hours or days.
The always-on business continuity and the power to seamlessly migrate, recover, protect and deduplicate data – on or off the cloud – without tying businesses to specific hardware, networks or protocols in critical for network-attached devices.
Falconstor Enterprise Suite is the single platform for any use case.
The legacy approach to data management often employed siloed solutions that had too many point products and were extremely complex to use. Frequently, they were unable to integrate with other vendors' point products. It is hard enough to communicate among physical and virtual environments, and even more difficult to do data protection and backups from one environment to the other without requiring a plethora of separate applications that each required training and support.
Numerous vertical silos are complex, confusing, incompatible, costly and inefficient. Falconstor Enterprise Suite works on a virtualized storage pool abstracted from the underlying physical storage, and is able to move both data and applications to and from any storage hardware, essentially flattening the entire storage environment. That makes the process of moving data from one internal storage platform to another, from physical to virtual, from a corporate storage environment to the cloud, all completely transparent to the infrastructure. The IT staff uses the exact same tools for managing data across their underlying storage infrastructure, on the corporate network and in the cloud. This not only reduces the complexity and costs of operations, it also reduces the cost and time of training staff in a variety of tools while significantly improving data security.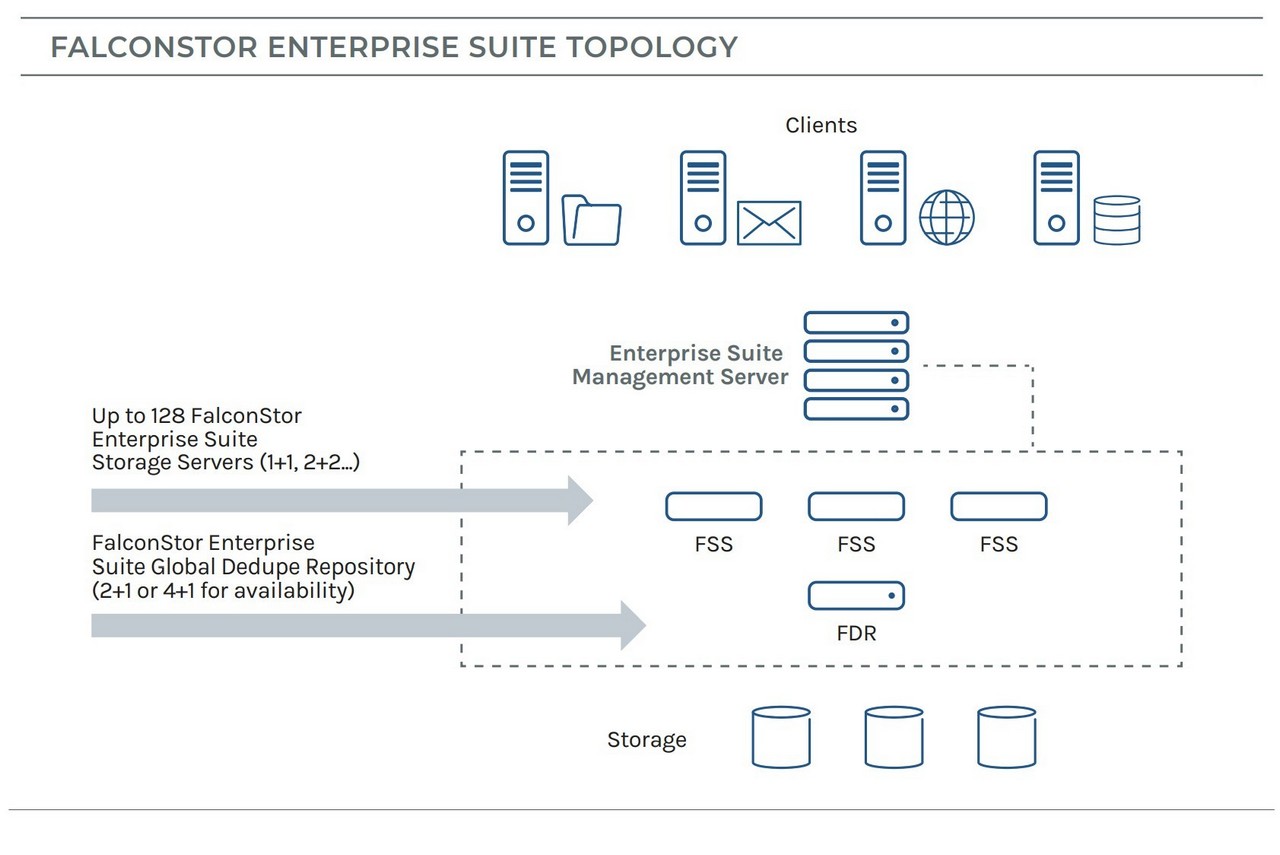 While the technological advancements make IT managers' jobs easier, the no more-guessing, no-surprises pricing model will make the CFO smile. Falconstor Enterprise Suite offers managed capacity, subscription-based pricing model that is simple, flexible and predictable. No more surprises! All data services, software updates and enhancements and 24 x 7 support are included for a fixed $/TB price based only on the capacity being managed by Falconstor Enterprise Suite. Customers only pay for what they use. This differs significantly from the common business model where companies either lay out capital expenditure (CAPEX) investments for hardware and software upfront, only to have varying renewal and maintenance fees down the road. While they often got a good initial price, let's face it, renewals and upgrades costs can be downright shocking and anything but predictable.
The Enterprise Suite business model permits the customer to select the financial model that works best for them — CAPEX or OPEX—without incurring costs on a per-feature, per server, per-array or per-user basis.
This flexible licensing approach allows customers to turn on or off any data services they want at any time without paying extra fees or requiring additional license keys. As new capabilities are added to Enterprise Suite or as customers require more features, customers are able to test and then take advantage of the other features. Moreover, the customer can add or remove underlying storage at any time without any additional license. At the end of each year, using a built-in utility, the customer will do a "trueup" on the capacity being managed by Falconstor Enterprise Suite. If the total capacity is the same the previous year, the annual price does not change. If the capacity being managed goes up or down, the difference is calculated at the pre established $/TB rate and will become the new cost for the following year.
With the ability to monitor storage capacity and utilization across the storage pool from the Falconstor Enterprise Suite management console, there are NO surprises. The fixed $/TB price ensures IT managers can predictably manage their budgets and their storage environments. When contract renewal time comes, the price will fall or rise based solely on capacity usage.
There is no more guessing about renewal costs as the cost is set up front and will not change during the contract terms.
There is something else to note. When talking about capacity under management, this refers to the storage being managed in the Enterprise Suite storage pool, not the underlying RAW storage. Any data services run on that storage pool are included. Say the customer is using the Falconstor Enterprise Suite deduplication service and is able to dedupe 100TBs of storage down to 60TBs in the Enterprise Suite repository.
The capacity being managed by Falconstor Enterprise Suite is 60TBs and the customer would only pay for that 60TBs. In addition, if they are using the tape-out feature, they are not charged for the capacity stored on tape, only the capacity actually in the Falconstor Enterprise Suite repository. It's that simple — no surprises.
The pricing model works for both enterprise customers and managed services providers (MSPs). For the MSP, the pricing model is flexible so that value-added service can enhance the MSP's bottom line without putting a strain on its customers.
FalconStor's pricing model is revolutionary in that it eliminates the constant fluctuation in billing due to a company trying out new features and functionality.
Traditional billing models generally cover a group of features the company plans to use with additional à la carte fees required when customers choose to turn on and off different features. This is an important consideration when a customer wants to test capabilities or perform diagnostics on the system.
In the real world, it all comes down to basic choices and setting the data free of unneeded and unwanted restrictions. Does the company want to be locked into a specific hardware platform or would it prefer to build, buy or reuse hardware to meet its specific needs?
Does the company want to be tied to a single purpose, single platform environment or a multi-purpose, single platform that eliminates silos, reduces complexity and helps modernize environments without rip and replace?
Do the CFO and CIO want to deal with multiple management points that require them to guess what their monthly MSP fees will be or would they prefer to know in advance exactly what they will pay each month during the life of their contract?
Finally, does the company want to buy what its business partners tell them to buy or would the company prefer to make the best choices on what to buy and how to expense the purchase to meet the company's requirements?
The answer to these questions is self-evident: Companies prefer to have the freedom to buy what they need, how they need to obtain it, and have the freedom to move their data anywhere, at any time, without unnecessary and preventable obstacles to suit the needs of their vendors, not the company that owns and is responsible for the data.
CONCLUSION - ONE PLATFORM, ONE VIEW, ONE PRICE
So let us recap some of the key capabilities of the Falconstor Enterprise Suite platform. At its most basic, this platform is software-defined storage at its leading edge without being at the bleeding edge. Fifteen years of experience in delivering proven, enterprise level data services is at the core of this platform. The platform itself is independent of the underlying hardware, OS and hypervisor, so data migration and managing data services is fast and simple. Data is free to move horizontally across nearly any infrastructure from the corporate network to cloud and back regardless of the frontend applications or the backend storage hardware. It really is the Power to Be Free.
At the other end of the spectrum, Falconstor Enterprise Suite is independent of the software applications as well, so the user is not limited to vendor-specific applications or lock-ins.
Should it become necessary for a company to move all of its applications and data to new platforms, a new service provider or cloud vendor — the nightmare scenario of enterprise IT managers — the migration can be done quickly and easily with Falconstor Enterprise Suite.
The user can now seamlessly merge new technologies like flash into current environments with a single migration path for all data regardless of storage platform capabilities or gaps and without creating yet another management silo. From migration to continuity, high availability to data protection, and recovery or optimizing backup to deduplication, Falconstor Enterprise Suite delivers proven, unified data services horizontally in a consistent fashion across the entire virtualized storage pool; it is no longer necessary to build silos of storage because a vendor is incapable of providing the right tools to move and protect your data where you want it, when you want it, and how you want it to work when it gets there.
And when it comes to pricing and contracts, there simply are no surprises. Everything is described simply and straightforward. Customers only pay for the capacity used. Everything is included, pricing is predictable and performance is outstanding. With the introduction of Falconstor Enterprise Suite, freedom from the confines of the storage infrastructure has arrived with a horizontal platform to converge and deliver unified, common data management services for the modern enterprise and service provider infrastructure. All with a pricing model will make your CFO smile.
For many enterprises, downtime is not an option. Cloud providers or enterprises that have continuous operations for mission-critical applications must have an infrastructure designed to operate without interruption.